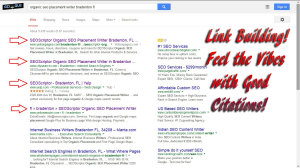 Website optimization is not just a one night stand. It is an ongoing SEO management process that involves continuous site changes that affect placement. There may be instances when keywords can be changed, rearranged or added to reflect changes occurring in the search results. Keeping abreast of current trends and algorithm updates is crucial for the web manager to implement any needed tweaks and maintain the hard work of great search results placement.
SEO Management: Layers
Optimization is a constant. It never stops and will always need tweaking throughout the life of the website. The process involves building layers of organic site enhancements to culminate in first page search result placement, preferably above the fold. This can only come about through ongoing website and SEO management to constantly build new layers.
Relevancy – The beginning layer connects title, keywords, description and content together and should be relevant to each other. This meta data information is what the search spiders use for website indexing.
Links – The best links to and from your site are citations built over time. Like mini web pages for your business, citations are business listings on high traffic directories such as Yelp, Yellowbook, Merchant Circle and dozens of others that are instrumental in the link building process. In addition, these citations can and do appear in the search results!
Web Design – Web design and layout encompasses the finished product and defines the message to the visitor. Fast loading and easy to navigate, it gives prospects information of interest allowing informed decision making and a call to action.
How Long does it take?:
While site indexing can occur in 3-5 days, reaching the first page of the search results can take up to 12 months to come full circle but, count at least on 3-4 months. By the time 12 months have past and layers have been built, the site should be perched on page one sticking like glue. It's one thing to get there, quite another to STAY there.  A dedicated website manager expertly and professionally handles all of this while the business owner concentrates on running his company.
Other factors and layers exist such as social media, traffic sources and reviews.  However, the primary effort is to ensure  first page worthiness and the best way to accomplish that is through the ongoing optimization and SEO management process.  SEOScriptor provides this service and more with a 100% client success rate.
~ The Scriptor ~