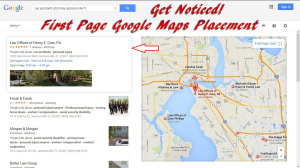 Your Google Plus on the Maps!
Location, location, location. It can make or break a business. Local customers searching for products and services want to shop close to home and the first place they look is online. Whether the searcher lands on the organic or maps results pages, they will be shown results of the businesses close to their location that are selling what they're looking for.
When it is your services that customers want, the best place to be is where they can find you.  A Google Plus for Business page is your company's calling card,  It appears on Google maps search results pages as a local business listing.  We'll build and enhance, set the categories and write the content for your keywords and location  that gets your company noticed on the SERPs.
We provide additional support with monthly maintenance and monitoring to ensure page one status for your Google Plus page stays intact on the first page of the results for your primary keywords and location. We've taken on some of the most challenging projects with much success that have come to us because they disappeared from the results.  We met the challenge and put them where they can be found by locals.